One-on-One Business Coaching & Consulting
Put my 17 years of online business & marketing experience to work for you.
The #1 obstacle most people face when starting or growing a business is knowing what to do next - that helpless feeling of being STUCK.
Long hours in front of your screen combined with reading WAY too many blog posts (or watching way too many videos) leave you completely paralyzed... and MAD.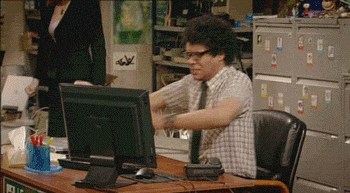 Everything leads you to that same frustrating question: "How does this apply to ME?"
Lemme tell ya, there have been plenty of times where I've been stuck, and in some cases, about to give up, until I finally asked someone else for help.
The only thing that's consistently helped is personalized advice on my exact situation from someone that's been there before.
Sometimes you just need someone to tell you what to do. My personalized one-on-one "get unstuck" coaching & consulting service was created to help you do just that.
Whatever you're struggling with right now, chances are I've probably been in your shoes and have made it through to the other side.
I have a knack for simplifying even the most complex issues and creating an action plan you can easily follow and find success with.
This is your chance to put me to work in your business. It doesn't matter if you're a complete newbie, an intermediate marketer or even an advanced entrepreneur who wants to take their business to the next level.
My coaching & consulting sessions are designed to actually talk with you as a real person, listen to what's important to you, and help you determine exactly what to do next...
To take what you're working on and input my experience and ideas to make what you're doing more successful.
Rather than insist that you do things the way I do, I help you find a path that suits YOUR personality, skills and goals. You can expect specific advice and recommendations rather than fuzzy ideas.
Everything we discuss is kept 100% private and confidential unless both of us agree otherwise.
Here's How it Works:
Sessions are done by phone or Skype and can be booked in 30-minute or 1-hour increments. Additional sessions can be booked on an as-needed basis (subject to availability).
The ground rules are very simple: Appointments must be paid for in advance.
Once we agree on a date and time, I'll call you wherever you are in the world at the phone number (or Skype username) you provide.
Each session is completely custom-tailored to your specific needs and 100% focused on your business. It's a hands-on, nuts-and-bolts solution where YOU get to set the agenda.
You'll tell me how you'd like to spend our time together as we get started and I'll follow your agenda to the best of my ability with blunt business building honesty and strategy.
You may send me questions in advance and materials or links to look at. I'll begin looking at them during our call.
You'll find I "get" things very fast, so there will be plenty of time during our session for feedback and advice.
Some of the topics I can work with you on include:
• Starting a new business / growing an existing one
• Internet marketing
• Affiliate & CPA marketing
• Email marketing
• Personal branding / attraction marketing
• Lead generation & list building
• Google, Facebook & Bing ppc advertising
• Ecommerce / Amazon FBA / creating & selling private label products
• Digital publishing
• What technology / tools should you use
• Copywriting
• Video sales letters
• How to get more traffic
• Marketing funnel creation & optimization
• Obtaining business credit / funding
• Alternative investments
In addition, here are some other things we can productively tackle together during your call…
You might:
• Pick my brain about your business as a whole
• Request a "reality check" on a marketing project or idea
• Receive feedback and suggestions on your website
• Ask for ideas on promoting or producing specific products
• Seek advice on a dilemma
• Simply enjoy a get-to-know-you conversation
Whatever you need, I'm at your service!
But here's a fair warning...
This never-before-offered service is extremely limited, as it demands a lot of my time. Therefore, I only accept a small handful of clients every month - once all spots are filled, that's it.
Getting Started is Simple
No hoops to jump through, no application process, and no mystery about the price. When you book a call with me, expect to get right to work on your questions and issues without a lot of schmoozing or small talk.
So if you want to shorten the learning curve and receive hands-on, step-by-step guidance from someone that's already built several highly successful online businesses, click on the appropriate payment button below and complete your payment to reserve your spot.
Book a 30-Minute Session with Brad ($97)
Book a 1-Hour Session with Brad ($197)
Note: The name of my company is: Synergy Global Ventures, Inc. Upon receiving your payment, you'll be contacted within 24 – 48 business hours to schedule your first session. I look forward to helping you!
Got questions? Contact me.