If you're currently in a network marketing, or a direct sales business, (or you're about to start one), then you're about to learn...
"How One Frustrated & Burned Out Introvert Discovered A Timeless Strategy That Delivers Ready-To-Buy Prospects & Distributors To You, Virtually on Auto-Pilot."
From: The home office of Brad Weinman
Date:
People that know me will tell you that I'm a no-fluff, 'tell it like it is' kinda guy, so let me make something perfectly clear before we go any further...
If you don't like hearing the truth about what really works to build your business on the internet TODAY... if you're gonna just skim through this website without reading it word for word...
If you're not willing to drop what you're doing and take seven of the most important minutes of your business career to read this letter all the way through...
Then please leave this site now. I sincerely wish you the best, but you're probably wasting your time here.
If that sounds a bit harsh it's because helping YOU achieve success is important to me.
I'm not here to waste your time and tell you what you want to hear, there's enough people in the industry giving you lip service already.
I also won't insult your intelligence by forcing you read some over the top, hyped-up sales letter trying to "convince" you to spend your hard earned cash on something that's not proven to work. I don't need to do that.
Have you ever said to yourself: "I wish someone had told me that a long time ago?" If so, you know what it's like to discover something that radically changes your life in a split second.
And if you're anything like me, you've tried all kinds of hair-brained and time-wasting methods to build your business.
I'm talking about things like buying dead-beat leads, cold-calling for hours on end, sending out oceans of emails (to angry people who don't want to hear from you), using the "3-foot" rule, putting signs on telephone poles (illegally), wearing embarrassing buttons and pins, doing the 'dog and pony show' at hotel & home meetings, making out your 'list' and hounding your family and friends, etc...
By the way, if you've ever had the 'pleasure' of cold-calling biz op seeker leads, you know how utterly brutal it is... you end up with a big ole' lump in your stomach, a bruised ego, wasted time, tons of disconnected numbers, and pissed off, negative people that lost money in other deals.
If any of this sounds familiar, it should because it's the same crap that was drilled into my head when I first joined the home business industry many years ago.
BUT, I'm here to tell you that there's a better, easier way to build your business online and I've taught thousands of network marketers the little-known automation strategies to generate their own low-cost leads.
And if you're serious, I'll teach you the same exact time-tested strategies that I personally use to earn a high multiple six-figure income from home.
So let me ask you... (and please be honest)...
Are you totally confused about what REALLY works to build your networking or direct sales business online, and don't know who to believe anymore?
Are you still using old-school 'hunting' techniques like cold-calling leads, and continually getting rejected?
Frustrated with 'replicated' systems that don't work the way your upline said they would?
Still buying overpriced leads with little or no results to show for all your money and hard work?
Are you completely fed up with all the stuff you've tried and
finally ready to learn and implement what REALLY works?
Great! I'll show you how to become the hunted instead of the hunter and attract ready-to-buy prospects coming to you on a silver platter. No magic fairy dust and no gimmicks - I promise.
I'll tell ya, my business got incredibly easier and much more fun and profitable once I implemented what I'll share with you.
What was it that made all the difference?
Well it had nothing to do with becoming a better "closer", cold-calling more leads or joining the "right" company at the "right time". It had nothing to do with any of those things at all.
It was simply a simple, yet powerful formula that I stumbled on by accident.
I'm gonna pull back the curtain and provide you with this proven solution so you'll no longer have to struggle anymore... (unless of course, you actually want to)
The information you're about to learn will show you why most people fail miserably and once and for all, give you more insight and understanding about the industry than 99% of the people who have ever signed a distributor application.
Who am I?
n case you don't know me, professionally, I've been self-employed most of my adult life as a free-lance artist by trade. I've also taught art part-time in local colleges and got into network marketing in 1998 to supplement my sporadic art business income.
Over 16 years ago, I began my own home-based business. But after running a traditional free-lance commercial art business for several years, I soon found out that all I really owned was a full-time job disguised as a business...
Not enough hours in the week. I learned that you still can't trade hours for dollars and at the same time, get ahead. That equation works against you, so I decided to educate myself and find out how to leverage my time and money using the internet, and in turn, found network marketing.
My wife and I have been married over 11 wonderful years and since 1998, I've been earning a full-time income online, mostly within the network marketing and direct sales industry, but these days I tend to focus on passive income type programs that don't require marketing, recruiting or selling to make money.
I'm truly blessed to be living a life of freedom and I enjoy doing purposeful work that helps others achieve the success they desire. We enjoy an incredible sense of security, peace of mind and time-freedom because of our online business.
But... it wasn't always this way.
When I got started in this industry back in in 1998, every day (except Sundays), I would spend countless hours 'dialing' for dollars' on the phone, working from the east coast to the west.
Funny thing is, starting out, I had big enough dreams that working through my huge fear of calling complete strangers about a business opportunity was enough to keep me in the game long enough to actually get pretty good at it after a while.
I even won some sponsoring awards... I'll spare you all the boring details, but needless to say, as a shy, introverted guy, I absolutely hated cold-calling and viewed it as a necessary evil.
Anyways, there are times in our lives when something is so profound that it just flat out hits us like a ton of bricks and we have one of those "AH-HA" moments and we're forever changed.
As I said before, I discovered an little-known secret formula that took me from cold-calling and prospecting/chasing hundreds of leads every month, to becoming the hunted, not the hunter.
Here's what started happening...
Practically overnight, prospects started knocking on MY door first, wanting to do business with me because they already knew, liked and trusted me before we spoke on the phone. And the cool thing was I stopped making calls to people... they were calling and emailing ME instead!
Anyways, from that point on, I left my old way of doing things in the rear-view mirror and my business from that point on would never be the same...
These days, I don't buy leads anymore. I don't hold meetings (or draw circles on whiteboards or napkins). I don't harass my family and friends (or anyone I come within 3 feet of), and thankfully, I no longer have to make any dreaded or awkward prospecting calls to tire kickers anymore.
Frankly, I never even talk to tire kickers anymore because they don't call me.
I get to focus on making money and having FUN!
All I did was make one simple, yet major shift
in the way I was building my business...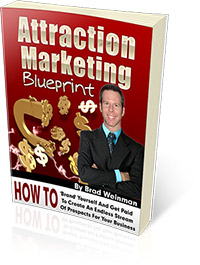 I'll reveal the exact 'blueprint' I personally use today to generate a full-time income online.

After numerous requests, I decided to spill the beans and distill everything I've learned over the last 10+ years (that works) and put it in writing.

I call it the Attraction Marketing Blueprint ™ and it's based on timeless concepts so ridiculously simple to understand and incorporate, that it can help anyone in ANY home business earn $100K+ per year in less time than you ever dreamed possible.
Network marketing newbies and seasoned pros are experiencing STARTLING results using the easy to follow steps inside my Attraction Marketing Blueprint™...
"I love the fact that you've gone into extreme detail from start to finish..."

"I just finished reading your book and it's fantastic man. As you know, this is exactly what I like to share with people as well and I love the fact that you've basically gone into extreme detail from start to finish, you basically show people the process that you've used and many others including myself have used to brand themselves and learn how to attract their prospects to them. I'll definitely be recommending this to my list."

Mike Dillard
www.MagneticSponsoring.com
"I'm living proof his strategies work."

"I wholly endorse Brad's Attraction Marketing Blueprint™ simply for this reason; because I'm living proof his strategies work. They're the same strategies that I'm using in my own business on a daily basis. If having character in business is important to you, and you want to make tons of money online, get Brad's book, it's totally worth it."

David Dutton
www.TwoWeeksNoticeReport.com
"I was able to make an excess of $100,000 in my first six months. This stuff works..."

"After reading and implementing specific techniques and strategies in this book, I was able to make an excess of $100,000 in my first six months. This stuff works and it's truly amazing.

I was very surprised and extremely pleased that I had prospects calling and emailing me, and what was really nice, was that they already knew who I was and wanted to do business with me specifically. This is a must read if you're serious about taking your business to the next level"

Damian Benko
www.passiveincomestrategies.com
"Thank you so much for getting this out to people"

"From the time I picked it up, I just kept writing in the margins and underlining stuff. I believe in personal branding. It takes a little bit longer, but it's powerful. And then you ended up with creating multiple streams of income, and I think a lot of people still don't understand how it's supposed to work, how it can work and you put it down so well.

My hat's off to you. Thank you so much for getting this out to people."

Troy Dooly
www.TroyDooly.com

"I absolutely love it!"

"As always, I'm very impressed with Brad. What he's created with his new course, 'Attraction Marketing Blueprint' is clear and specific and on target. Branding yourself is absolutely the best way to go and Brad's done an outstanding job of pointing the way of how to do that effectively.

Charise Carter
www.whoischarisecarter.com
Wouldn't it be exciting, if from now on, you ONLY spent the
majority of your time simply answering phone calls and emails from interested prospects that want to do business with you?
Imagine...
| | |
| --- | --- |
| | NO more cold-calling and painful rejection |
| | NO more 3-way calling |
| | NO more chasing leads - forever! |
| | NO more leaving messages with flaky tire kickers that never call you back |
| | NO more 'money pit' ideas that only produce more debt instead of leads |
| | NO more buying leads, period |
| | NO more friction within the family, due to a lack of funds |
Check out what some of my other students about what they've learned from my attraction marketing formula...